One UQ Web Roadmap Program
UQ has committed to the one UQ Web Roadmap Program, aimed at creating a greatly improved user experience for everyone who interacts with our external web channel.
Part of this means a consolidated information architecture and navigational structure, resulting in a significant reduction in the number of websites UQ presents.
Ultimately, this benefits customers who will be able to access UQ information and services through a single website experience – that is, a consistent look-and-feel and page layouts for related content, and shared navigation – and by reducing the risk of out-of-date and conflicting content.
Timeline
There is a rolling program of work targeting the following high-level sites at the following times:
Study – underway, with information for current students to be integrated progressively until late 2024 
Research – underway, completing mid-2023
News – starting mid-2022, completing mid-2023
Partners and Community – starting mid-2023, completing mid-2024
About and directories – starting mid-2023, completing mid-2024
Event and careers – starting early 2024, completing late 2024.
As we progress through this program of work, many existing sites will need to be consolidated, forming part of these greater sites. Current site owners may still maintain a unique URL and have control over their content, but content will need to fit into the greater website ecosystem, using shared components. This is yet to be specified, but will potentially include the ability to share stories, news and events, scholarships and other key content between what are currently separate, siloed sites.
This will benefit content owners by:
improving the SEO (search engine optimisation)
improving the discoverability of content
ensuring access to new functionality as it is developed
providing an improved experience for site publishers, with the new content management system being easier to use.
Unless there are exceptional circumstances, new websites are not being approved. If you want to discuss a website request, contact the Websites Channel Team – we'll work with you to help achieve specific goals within the possibilities of current infrastructure. 
Phase 1
An overview of the Phase 1 changes scheduled for release on 22 and 23 June includes:
redesigned homepage and level 1 landing pages (Study, Research, Partners & Community and About) 
new navigation structure 
new secondary and primary header links 
new mega menu: Under each primary link will be a mega menu, which will show everything at a glance in that section 
new footer 
new webpages to fill existing content gaps. 
Some of these changes are illustrated below: 
Header / navigation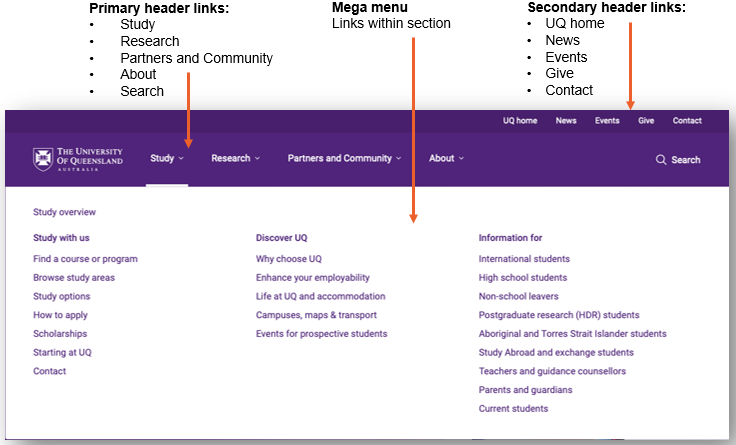 Footer 

Contact us
If you have any questions about the One UQ Web Roadmap program, contact the Websites Channel team.