Spans the fields of market research, product research, user experience (UX) and customer experience (CX) research. The common principles when conducting Experience Research include:  
enable a deep understanding of our market, users or customers (current and potential);  

in order to inform evidence-based decision-making; which  

feeds into a human-centred design approach. 
Focuses on understanding the problem space, gaining a deep understanding of users behaviours, attitudes, problems and challenges they face, core tasks and goals they have, and how they define value. It is the first diamond in the design process.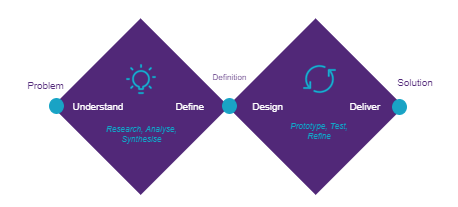 Methodologies that may be used in a discovery research phase might include (but not limited to):  
Contextual enquiries  

Focus groups  

Interviews 

Surveys 

Secondary research scan 
The purpose is to allow Product and Design teams the opportunity to identify issues and opportunities for improvement pre-build and pre-launch to de-risk any costly mistakes being made. The CX Labs follows the best practice Nielsen Norman Group (NNG) approach to usability testing, outlined here: https://www.nngroup.com/articles/usability-testing-101/.
 The approach is summarised below:  
 moderated one-on-one sessions between a researcher and a participant, typically lasting 1 hour.   

The participant is given real-world tasks (or scenarios) that they would typically want to conduct on the interface, and then moderator observes the participant's behaviour. 

conducted face-to-face or online (utilising Zoom or Lookback which allows mobile testing, where person in picture video still available). 

 typically in each round of testing you would have 5 participants (we often recruit 6 to achieve 5 participants), Neilsen Norman has stated as a guide '5 users find 85% of usability issues'. 
Customer insights should be embedded throughout the new product development process. This aligns both with a design thinking, lean UX and agile framework. There are a variety of ways to embed customer insights throughout this process, such as: 
Discovery research and/or market research in the early stages; 

User experience design and testing (see CX Labs methodology); 
Beta feedback process prior to launch; 

Ongoing customer feedback once the product is live.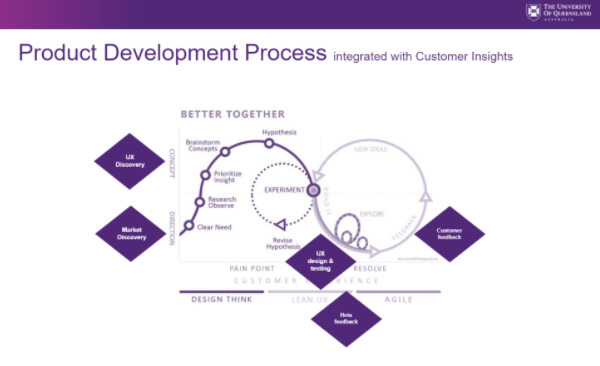 The Customer Research and Design team facilitates this process for initiatives that the CX Program works on.  
CX Survey Research 
The Customer Research and Design team can provide assistance with best practice survey sampling, design and analysis.  At this stage, there is limited capability to conduct centralised surveys, but we hope to be able to offer this service in the future. 
The UQ Experience Research Panel is a panel of current UQ students who have signed up to be notified of ongoing experience research and testing activities, managed by the CX program.  The purpose of this panel is to provide a 'large enough' current student research panel to allow: 
Conduct of regular research and testing activities with current students; 

Conduct of representative research and testing with a broad cross-section of students; 

Access to faster insights;  

Increase response rates by having an engaged panel of students interested in being involved. 
Find out more on the frequently asked questions page of the sign-up process. 
Current panel statistics (last updated: June 2020): 
Faculty
Business, Economics & Law
34
Engineering, Architecture and Information Technology (EAIT)
8
Health and Behavioural Sciences (HABS)
19
Humanities and Social Sciences (HASS)
37
Medicine
68
Science
26
University Graduate School
1
Gender
Female
139
Male
49
Age
18 or under
29
19-20 years
29
21-25 years
85
26-30 years
25
31-35 years
10
36-40 years
6
Over 40 years
1
Program Type
Dual program
18
Single program
175
Enrolment
PGCW
115
UGRD
77
PGRS
1
International
International
86
Domestic
101
Join the UQ Experience Research Panel and give us your feedback on UQ services and websites. You will earn gift vouchers or win prizes each time you participate!  Your insights will help us create a more enriching student experience so you can get the most out of your time at UQ.